Welcome.
The Spectrum Centre is a a major landmark in the Greater Shankill area and has developed as an Arts and Cultural and multi purpose venue which encourages a creative and innovative spirit amongst all of its users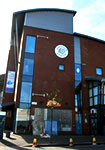 Flexibility is important to us at the Spectrum Centre and we believe in working with our users to maximise their use and enjoyment of our facilities.
We are bringing events to the centre which will entertain and stimulate our attendees.
For more information about the Spectrum Centre, please contact us